Welcome to our first installment of a four-part series on SEO and web marketing strategy for real estate agents. A lot of these tips and general advice will apply to small businesses on the whole, but we wanted to tailor our approach to realtors in order to show you how general web marketing and SEO practices might be applied to a specific industry.
Over the coming weeks, we will be digging deeper into our web marketing arsenal to see how real estate agents can successfully employ social media, how they should handle their website architecture as well as helping to identify opportunities realtors can use to grow their link profile and build authority on the web.
Today, we are going to perform a pair of high level site audits on Atlanta area realtors who are finding success in the search engine rankings. We'll look to pinpoint what exactly they are doing right and what methods might be shade more questionable.
For our case study we chose two realtors that popped up on a fairly competitive search, Atlanta real estate. Of the ten Google listings (excluding the local search block), eight were occupied by large agencies (Coldwell Banker, Berkshire Hathaway) and real estate hubs (Zillow, Realtor.com, Trulia). The sites in question were Atlanta Pros and Premier Atlanta Real Estate. Of the hundreds of realtors operating in the Atlanta market, what sets these two apart from the pack?
Atlanta Pros (atlantapros.com)
The Basics
Atlanta Pros are a group of realtors that operate out of the North Atlanta suburb of Alpharetta and are affiliated with Keller Williams. The domain name is a nice, aged domain, registered in 2002. It has a Moz rank of 46 and a Google Page Rank of 3. I project they do roughly 32,000 hits a month or 1100 hits a day. Its a rough estimate based on common traffic metrics compared from other sites I manage. Even if you chopped off a few thousand, those are pretty stout numbers for a realtor.
It certainly doesn't hurt to have a team member who is a self proclaimed SEO specialist, as Jim Koza is listed on the team profile page. Shortly, we'll see if he lives up to that billing, but not many realtors can make such a claim. Having a member of your team who is fluent in web marketing is always a huge plus. Just make sure they are employing the right methods.
The Good
What I like best about Atlanta Pros is the wealth of local area information their website provides. They've got a map of all the golf course communities in greater metropolitan Atlanta. This includes a list of price ranges for homes in the area and a through description outlining what makes each community unique.
Atlanta Pros do the same thing for each city, swim & tennis community, and even break down which school districts you want to target. This is a site you could just camp out on with a cup of coffee. Google seems to agree. They regularly rank various pages of the site in the first two pages of Google for things like golf course names. They even pull a number five ranking for "Atlanta private schools." Who expects to run across a real estate agent on that search? These are valuable evergreen resources that always stay relevant. You can tell a lot of time and effort was put into filling out all this detail across the site.
The Bad
There are definitely some concerning aspects flashing like a neon sign from their link profile. This certainly could bite them in the future. When you look at their anchor text distribution, the top 5 terms (including the percentage of the whole those keywords makes up) are:
atlanta homes (11%)
atlanta real estate (11%)
atlanta real estate – atlanta homes (7%)
atlanta real estate & atlanta homes (6%)
atlanta homes – atlanta real estate (5%)
Does anything look unnatural to you? Well a normal link profile would have the company name (Atlanta Pros) and/or website url (atlantapros.com) as the most dominant terms linked to from outside websites which is obviously not the case here. Also within those last three keyword strings, no webmaster would ever naturally put that gaggle of words together on their own.
This link exchange page on Atlanta Pros would seem to be the culprit (http://www.atlantapros.com/resources/link-exchange.html). It looks like the suggested text block has been varied over time to scatter those keyword strings across the internet. As you can see, it has worked, boosting Atlanta Pros to being featured prominently on the first page for both of these terms. The larger question remains — how long will they stay there?
Link exchanges aren't inherently bad. Its a linking practice that was very prevalent a decade ago that has largely been abandoned. It definitely muddles around in the grey area of Google's terms of service. I think the key to making a link exchange work is the link needs to make sense based on the context of the page in which its placed, be natural by nature (i.e. the webmaster chooses how to construct the verbiage of the link text, not the person asking them to place it) and exchanged links should represent a fairly small portion of your overall link profile.
Atlanta Pros may have helped out their cause by not linking to all the sites who have linked back to them, but ultimately that exact match anchor text is a ticking time bomb waiting for a future Google Penguin update.
Premier Atlanta Real Estate (premieratlantarealestate.com)
The Basics
Premier Atlanta Real Estate are a group of Roswell realtors that are also part of the Keller Williams fold. I'm sensing a pattern here. The website domain was registered in November 2009. It certainly doesn't hurt that Atlanta Real Estate is housed directly in the domain name. It has a Moz Rank of 40 with a Google Page Rank of 2. It does roughly 5,500 hits per month or 180 per day.
It seems Jim Koza isn't the only one dabbling in the fine arts of SEO. Agent Ryan Ward's name pops up in the comments section of Matt Cutt's blog (the man in charge of Google's web spam team).
The Good
The first thing you'll notice when scrolling through the search results is Premier Atlanta Real Estate stands out due to the agent's picture showing up beside their listing. No one else in the top ten is taking advantage of Google Authorship which is extremely fortunate for Premier.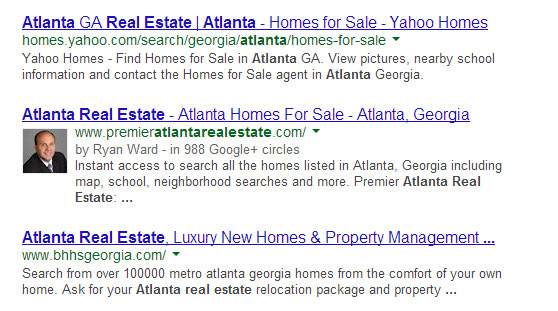 They've setup some nice relationships with online industry publications. Premier's blog is featured among Home Gain's selected real estate blogs featured site-wide along the right sidebar. Evidently, Premier has been publishing valuable real estate-related content and approached Home Gain for inclusion. Home Gain agreed.
This one I love. Agent Ryan Ward is an article contributor to Real Estate Industry Watch and Real Estate Webmasters. Through relationships like this, he's building up his reputation as an authority within the real estate industry and when potential clients look him up, there are a ton of sources reinforcing that this guy is someone to entrust with selling a home. I'd actually like to see him go one step further and target more local publications. Reach out to the AJC, Gwinnett Daily Post or Suwanee Magazine to tailor a real estate article that would be a perfect fit for their readers. You could even possibly leverage it into a regular feature if the article was well received.
Premier Atlanta's website anchor text distribution is better than what we saw with Atlanta Pros. Here are the top 5 terms that come up:
Ryan Ward (11%)
Atlanta Real Estate (9%)
Atlanta Homes for Sale (7%)
Premier Atlanta Real Estate (6%)
Alpharetta Real Estate (5%)
Obviously, I'd rather see Premier Atlanta Real Estate leading the pack, but having the realtor name at one (lots of value add blog comments further reinforcing his authority) and the company name at four isn't bad. The website url slides in at seven.
The Bad
I don't have much to gripe about when it comes to Premier. One of their most prominent links is courtesy of a Snitz Forum where they evidently gave a donation this time last year. While I don't take issue with a donation link, one with exact match anchor text (Atlanta Homes for Sale) tucked in the middle of a huge stream of spammy links is one I'd personally avoid like the plague.
They've also paid to join certain real estate directories that contribute no real traffic to their site that I can see. Directory Atlanta is an example of this (http://www.directoryatlanta.com/). Obviously, this is an assumption on my part. Perhaps some of these directories just included Premier Atlanta Real Estate within their ranks simple because they are a high profile agent operating in the Atlanta market. Regardless, both of these types of links could be perceived as paid links if an over enthusiastic Google spam reviewer wanted to get really picky. Given their sheer breadth of quality links though, I'd say they have nothing to worry about.
Take Aways
So what can we ultimately glean from all of this new found knowledge? Some degree of link manipulation will still get you to the top of Google's search rankings, but I wouldn't count on that being the case for much longer. With each release of Penguin, more businesses relying on exact match anchor text are going to wake up one morning to find a nasty surprise waiting for them in their traffic reports.
Google has always preached "build solid content and the traffic will come." Most webmasters are sick of that tired maxim because it just doesn't work in most verticals. Big brand names hold the rankings hostage. But Atlanta Pros bountiful supply of evergreen content is definitely getting rewarded for its outstanding value. Realtors are naturally brimming with knowledge about the local markets they serve so why not write up detailed local guides outlining why you'd want to live near a certain country club or what off the beaten path shops must you visit in Alpharetta. Doesn't content like that help you further solidify the sale?
The thing Premier did best was Ryan Ward's efforts to solidify himself as an authority within the industry. He's offered valuable insights within the comments section of real estate blogs, contributed articles to industry publications and over the years built up an online profile to be envied.
This is a look behind the curtain to see how two realtors found success in the wild world of natural search rankings. Over the coming weeks, we'll continue this series highlighting how realtors can use social media to increase engagement and find new customers. We'll go beyond this case study to show you additional ways to win the web marketing battle. We will also look at your website architecture to make sure you aren't sabotaging your efforts through a poor layout, butchered page labeling, or a web design that should have been put out to pasture long ago.